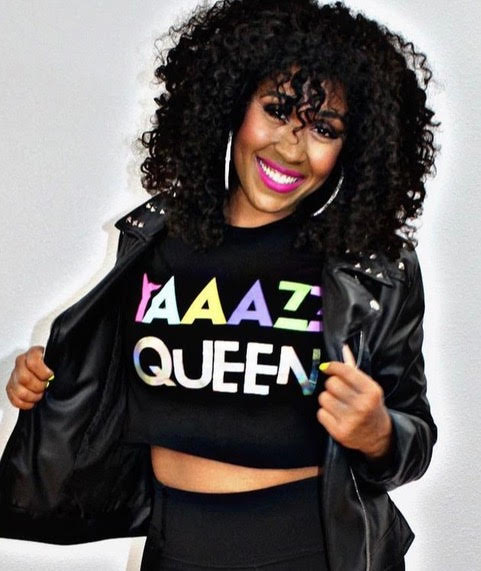 Camille Thompson is a dancer, producer, choreographer and performer born in Dallas, TX.  At the age of 3, it was apparent that Camille was a natural performer.  For Camille, dance has been a passion since early childhood.  Professionally, she started teaching and directing over 20 years ago as a student teacher still in high school.  Camille's responsibility to lead in the dance community has been integral in her development as a community leader and well known dance director.  Fresh out of high school, Camille was selected to join the 2005/2006 Dallas Mavericks Dancers award winning team.  From there she went on to perform, behind musical artist such as Tyrese, Paul Wall, Dorrough, the Dream, Ludacris, Bun B, and more in concert performances and music videos.  In 2010 she returned to The Dallas Mavericks Dancers dance team for a second season.  
After enjoying her experience as an NBA dancer, Camille was blessed to become a mother to her first born daughter Cooper.  Burdened with the challenges of becoming a mom, she created Moms with Moves, a dance class formulated to assist moms in regaining their confidence and self esteem after having children.  After Moms with Moves took off, Mom Crew was created.  Mom crew is a dance team of all moms and grandmas based out of Dallas, TX.  

Over the years, Camille's dynamic dance style has been recognized on several local and national platforms including So you Think You Can Dance, Good Morning Texas, D Magazine,  Mommy in Los Angeles Magazine, Fox 4, and more.  Her ability to see the best in children and adults is what sets her apart from other industry leaders.  Her patience and willingness to drill with meticulous detail is a gift that has created champions our of beginner dancers.    With her passion and dedication, she has taken dancers to perform for New Kids on The Block, and opened for musical artists Whiz kid and New Kids on the Block.  Her talents have landed opportunities such as 69 Boyz music videos and concert performances, NBA and WNBA halftime shows with the Dallas Mavericks and the Dallas Wings and more arena stages.  Her dancers are diligent and trained to remain humble and dedicated throughout their dance journey.  Her dance style is unique and high energy creating a vital you will not want to miss.  Camille's heart is with dane and she enjoys teaching all dancers age 2 to adults of all ages and dance levels.  Her pure dedication to the art form is a direct reflection of the productions she creates.  She plans to continue dancing "until her body tells her otherwise".  

Although her passion for dance stands out immensely, her commitment to community service and philanthropy plays a huge role in her career.  Over the years, Camille has traveled the globe doing work to make the world a better place.  Locally, she dedicates countless hours to community service through her dance teams and dance studio.  Some of their community works include hospital and nursing home visits and assistance, Clothing drives, free workshops for underprivileged youth and adults, services for battered women and abused teens and children, Animal services, feeding the homeless and more.  

Camille is proud owner and founder of iDANZ PERFORMING ARTS STUDIO. iDANZ built in 2020, in the center of a global pandemic with her own hands and the hands of a professional team of friends and family. iDANZ is a safe space to learn all forms of dance from Ballet, Tap, and Jazz to Afro, Hip Hop, and Break Dancing.  Camille's goal with iDANZ was to create a family friendly environment that was welcoming and encouraging so that all who are willing feel free to let the beat move them.    
.